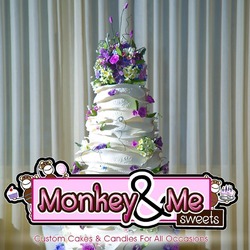 Monkey & Me Sweets
Wedding Cake
Contact
717-808-4841
About
Custom cakes and candies for all occasions! If you can think it up we can create it! We specialize in 3D custom sculpted cakes.
Monkey and Me Sweets will create a work of art for your event! We are able to create just about anything from standard tiered wedding cakes, to 3 dimensional masterpieces. We are certain that we can satisfy your idea of the perfect cake for any occasion whether it is a wedding, birthday, special event, holiday, etc. Any occasion that requires a cake, we are able and willing to create a confectionery masterpiece that will catch the attention of everyone at the event. If you would like more information, please call or email, and we will discuss your perfect cake today!
Monkey and Me Sweets is a home based business so all appointments must be scheduled.
We are located in Lititz, PA (Lancaster County)
We try to return all calls and emails within 24-48 hours, if you do not hear back from us within that time please drop us another line. Technical glitches and getting overly busy are known to happen from time to time.